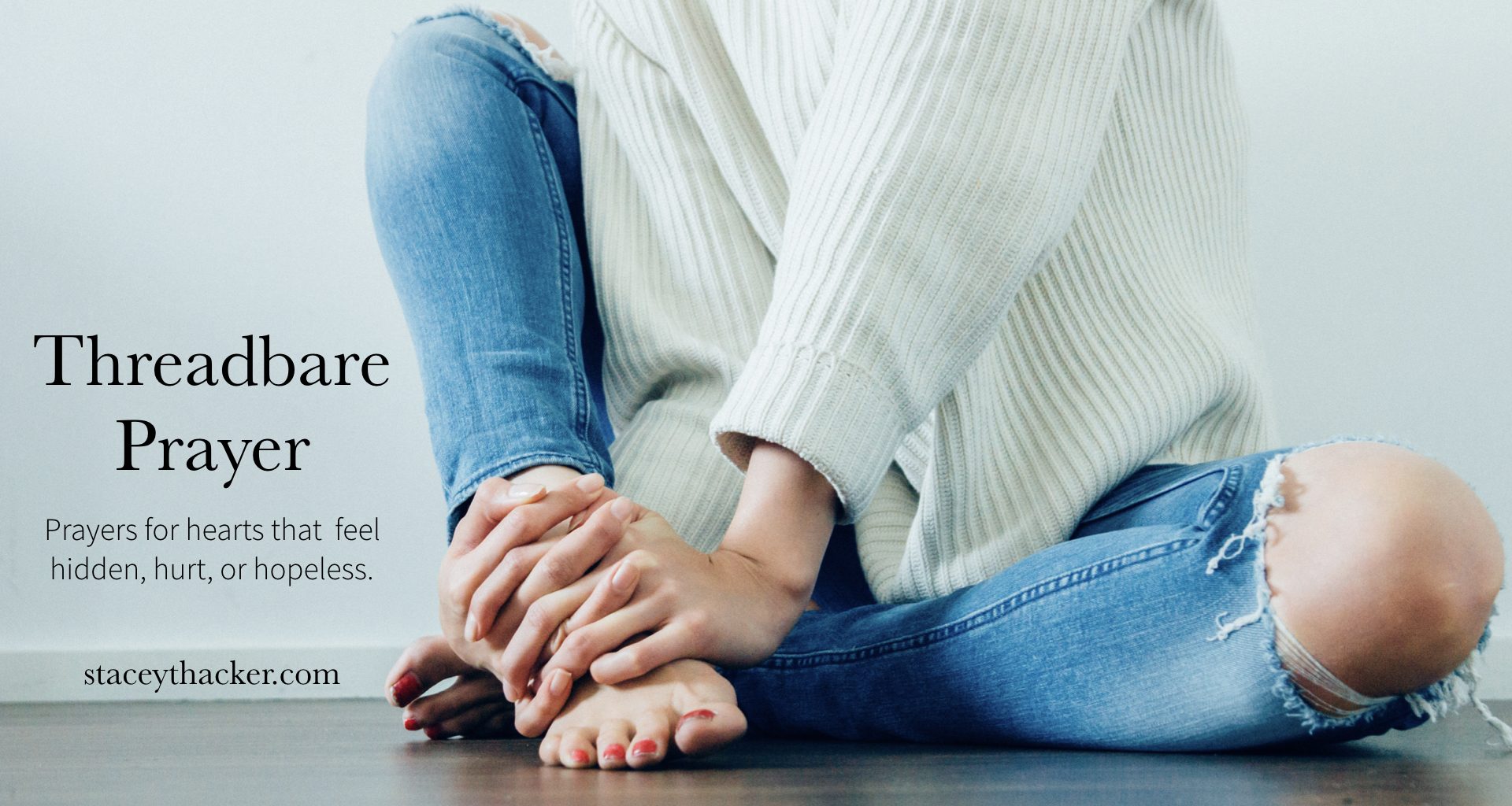 Do you feel hidden, hurt, or hopeless?
A Threadbare Prayer is whispered deep within our hearts when we feel hidden, hurt, or hopeless. My book, Threadbare Prayer  includes 100 of these heartfelt prayers. What would happen if we prayed for the first 100 days of 2022? Let's find out.
Join me for 100 Days of Threadbare Prayer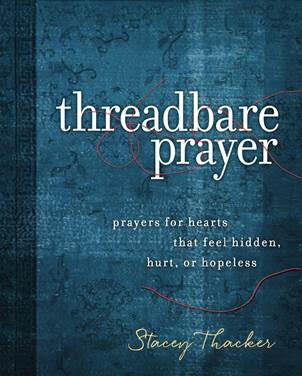 Life sometimes brings difficult situations or circumstances that can leave us feeling run-down, drained, worn-out, and threadbare. These are the times we most desperately need prayer, but they can also be the times we simply don't have the words to form a prayer.
In Threadbare Prayer, Stacey Thacker presents 100 simple yet heartfelt devotions to guide readers on the days they don't know what to pray. Each entry in this attractive, gift-worthy devotional contains a Bible verse, a brief thought, and a simple, concise prayer to encourage the reader's heart.
In this book you will:
Discover you are never alone.
Know the heart of your Father.
Recognize prayer can transform. .
Remember even the simplest prayers have great power.
NEW! Listen to the Threadbare Prayer Podcast on these platforms:  Anchor  | iTunes  | Spotify
Meet the Author
Stacey Thacker is a wife and the mother of four girls.  She is a writer and Bible teacher who loves God's Word. Her passion is to connect with women and encourage them in their walks with God.  Stacey is the author of 7 books including Hope for the Weary mom,  Fresh Out of Amazing, and a series called The Girlfriends' Guide to the Bible. 
"Friend, if you are worn-out and know you 'should' pray but have no words, there is help in these pages. Stacey Thacker knows the depths of deep dependence on God. She's been through the nothing-left-to-give moments. The ones in which you can only whisper, 'Lord, help.' With her authentic devotions and the Holy Spirit groaning on your behalf, I'm confident you will find hope and encouragement in these pages." Heather MacFadyen
"Threadbare Prayer is for the weary and heavy laden one who needs help turning to the only One who can shoulder our everyday burdens as well as our especially broken spaces. Not only will this book help you know how to pray in your time of need, it will point you again and again to the goodness and glory of our capable, faithful God." Katie Orr
"I'm convinced that one of the reasons God allows us to walk through hard things is so He can use our lives to tell a story of His faithfulness to the people around us watching, waiting to see if the God we say we love is worth following. He did it with Hosea. He did it with Paul. He is doing it with Stacey Thacker. Over the last few years I have watched her absolutely refuse to stop clinging to Christ in the midst of a deluge of hard things. The words in this book are hard-won. They are hard-lived. These prayers have been prayed so many times…but the beauty of threadbare prayers is that they never, ever wear out…even when we do. I'm so grateful to Stacey, and the entire Thacker family, for allowing us to see Jesus in them." Brooke McGlothlin
"If you've ever felt like there is just the thinnest thread holding you together, this book is for you. It's raw and real and beautiful. When you don't know what to pray, how to pray, or even why you should pray, pick up "Threadbare Prayers." Whisper these words from one who knows the weariness, the worry, and the weight and hear the whisper of peace from the One who hears, who sees, who knows, and who cares." Teri Lynne Underwood
"I was deeply moved reading Threadbare.  Moved in my core from page one, with burning tears, and then into comfort and truth of Jesus.  Page after page, prayer after prayer, reminded me to lift my eyes from my struggle to The One who saves. " Francie Winslow