My last What I Wore blog post was 3 weeks ago. Two days before we started an 8 day hospital stay with one of my girls. I promise you, what I wore during that week would not be noteworthy. Except for the fact, by way of confession, I wore one outfit for about 48 hours straight. Also, I look super tired in all of today's photos because I am super tired.
But, last week I received a previously scheduled Stitch Fix box of fun and I wanted to share it with you. As usual, I found something I loved. But also a couple of things that were not winners for me.
Here is what was in Box #9: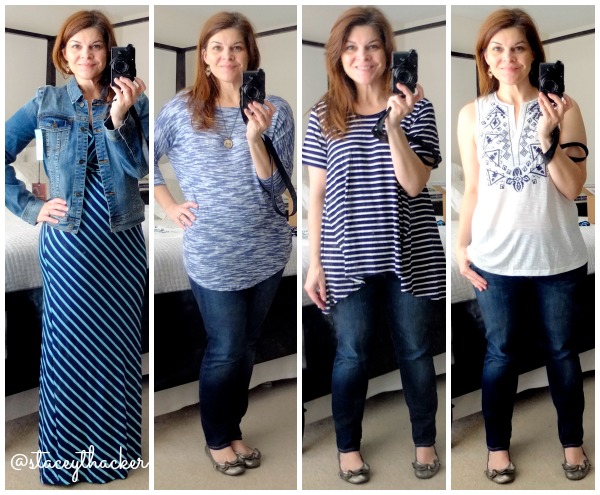 Left: Just USA Morrie Boyfriend Jacket and  Gilli Zuli Striped Maxi Dress:
I love a great denim jacket but I have one already—sent to me by Stitch Fix in another shipment. I should also say I love it more than this one. I felt this style was a little to boxy for me. The dress was a great idea but oh too many stripes going on for my taste. Just too much going on girls. IF it was a solid color, I might have been swayed. The fit and cut were nice. Super comfy.
Left Center: Market And Spruce Sawyer Space Dye Dolman Sleeve Knit Top
I was excited to try this because (A) I have a Dolman top I love (Stitch Fix also) and  (B) the sweater was super light and I could have worn in this summer. But it did not work at all. Not my favorite.
Right Center:  Dahlya Steval Swing Knit Top
I had high hopes for this but as my daughter so lightly put it, "Mom, you look pregnant." Sigh…not what you want to hear. I think if you were elegantly taller than me this would be adorable.
Right: Pixley Alda Embroidery Detail Knit Top:
This top girls is adorable. I fell in love the instant I saw it. It reminds me of a top my friend Heather wore last year at Declare when she picked me up and we ate real Tex Mex. I love that it is sleeveless and will work with every color of cardigan.
And so, I kept the cute top and I've worn it twice since then.
If you have never tried Stitch Fix, it is super fun. They now have Petites (Yay!) and Maternity. So check it out if you like. If you do so through my link I get a shopping credit of $25 which is awesome so thank you!
xo,
Stacey