When did I stop wearing dresses?
Or rather, when did I start choosing to wear jeans more often, especially on days when a dress might work just as well? I guess I'm a jeans girl for the most part. Maybe you are too. But, I love when I put on a dress and my girls exclaim, "Mommy! You are so pretty." They did that last week when my husband and I got dressed up for a special dinner out. I have to admit it was really sweet!
I think I may have found the perfect fall and winter option this year for those days when I want to hear my girls excitement over what I've chosen to wear.
Meet the Remi Swing Dress from Cents of Style: (Here are 3 ways I styled it just for fun!)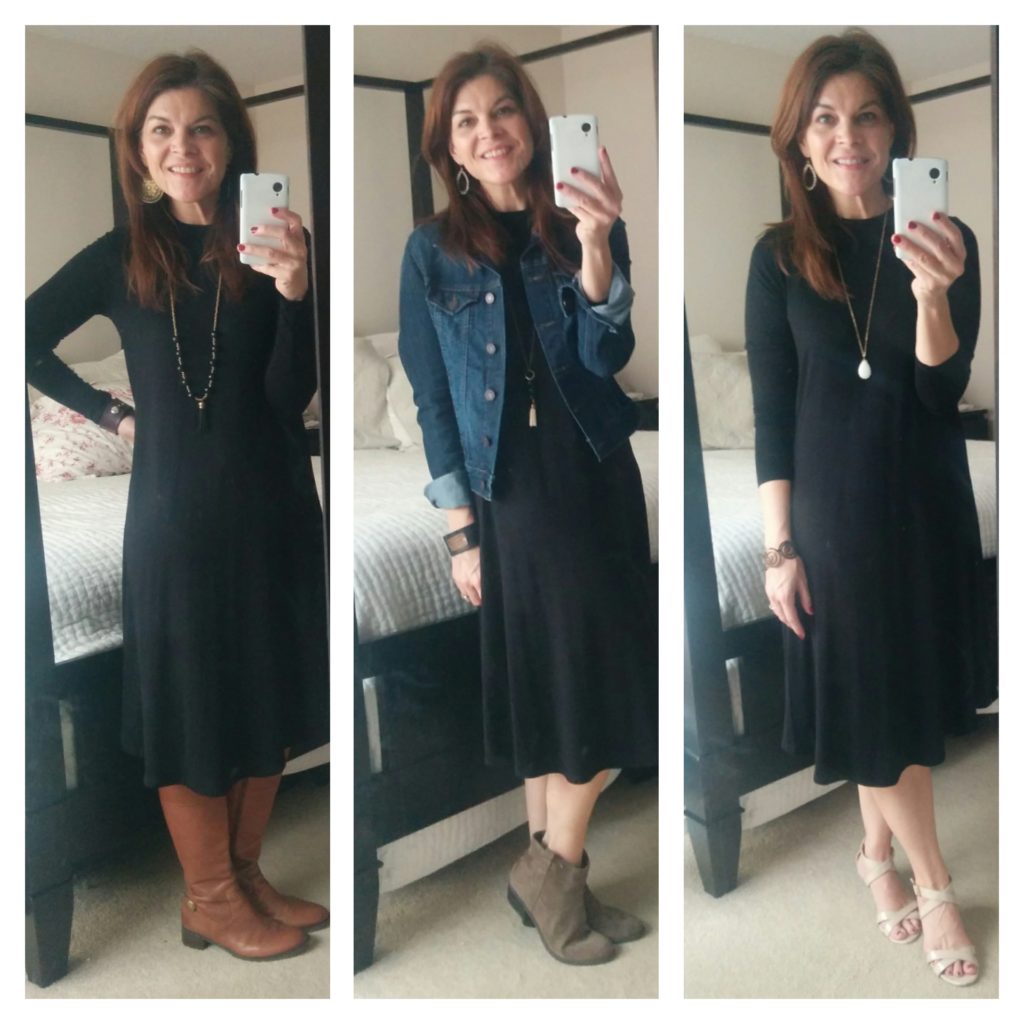 Left: Remi Swing Dress in Black, brown riding boots, Tassel Necklace (Trades of Hope), Earrings (Trades of Hope), Leather Cuff (Farmgirl Paints)
Center: Remi Swing Dress in Black, Short boots (Target), Jean Jacket (Stitch Fix), Necklace (Fair Trade Friday), Earrings (Premier Jewelry).
Right: Remi Swing Dress in Black, Nude wedge heels (Target), Necklace (Cents of Style), Bracelet (Trades of Hope).
What I love about this dress: It is lightweight and the top of the dress fits close to the body for easy layering. I love the short collar and I'm seeing this style all over the place. I also like that you can play with the sleeves (push them up or down). Since I live in Florida and we are still quite warm, this is helpful! I also like that it is a little longer in the back…so fun!
I think I could have gone a size smaller (this is a medium) and I MIGHT get it hemmed because you know, short people like me sometimes need to do that. But I may not because sometimes I just can't quite get around to things like that. My absolute favorite look is with the brown riding boots! But of course you know I love those boots!
This dress is a beautiful basic and comes in lots of colors! (Try 17 different options!)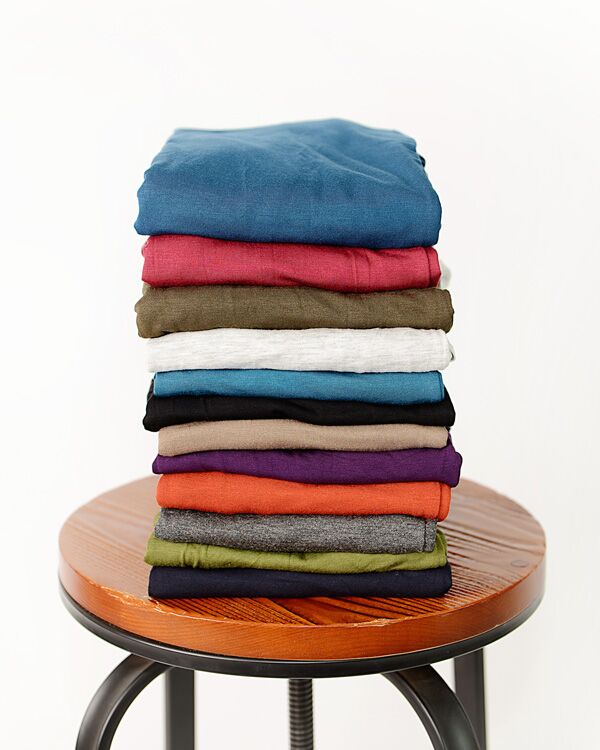 Sale! Today only (Friday 10/21/16) This Long Sleeve Swing Dress is a great buy!
Details: Use the coupon code is DRESS2016 and it will make each dress $21.95 + FREE SHIPPING in the cart.
You can find it here: Fashion Friday Story – Long Sleeve Swing Dress for $21.95 + FREE SHIPPING w/code DRESS2016 (affiliate link)
And how cute are these girls? (if you click the arrow it will take you to Facebook to watch the video).
The Remi Swing Dress works for every girl. (sizes available from small to 3X). Yay!
FYI: My white necklace (in right side picture above)  is also from Cents of Style and called the Bethany Tear Drop!  (affiliate link)
So, how would you style your Remi Swing Dress and what color would you choose?
xo,
Stacey
P.S. Special thanks to Cents of Style for sending me a free Remi Swing Dress and Bethany Teardrop Necklace to try! I love them! Also, this post contains affiliate links. Which means if you click through and purchase, at no extra cost to you, I will receive a small compensation! Thanks friends! Happy shopping!
Get it here and we can twin————–>Fashion Friday Story – Long Sleeve Swing Dress for $21.95 + FREE SHIPPING w/code DRESS2016