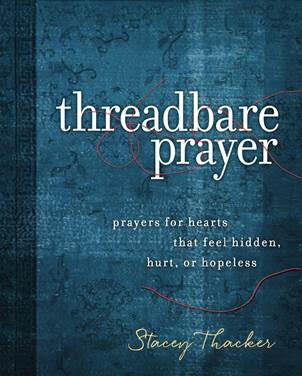 A few months ago, before everything went side ways, I had an idea to start a Threadbare Prayer Podcast. Honestly, it was one of those ideas that sounded GREAT at the time and then as I thought more about it I wasn't sure how to make it all happen.
You should know that happens a lot with me and my ideas. I'm pretty good when it comes to other people who have ideas and helping them see their way to the other side, but mine…I just don't know where to start. Maybe you are the same way.
So, I tucked that idea away and went to work on the real live things right in front of me. Like navigating life in the midst of COVID with 6 people in my house eating 100 times each day.
But then, a couple of weeks ago I was talking with a friend and the idea of the podcast sparked again. I realized that maybe, I was making it more complicated than it needed to be.  Maybe you can relate to that, too. I decided to just start the process, take one step at a time, and see if it could become a reality.
When I first started writing these prayers I had no intention of them becoming a book or a podcast. I simply started writing through my own wrestling place right here on this blog. I think it is a good reminder that God is always at work doing about 1 million things we don't know about. He absolutely can bring beauty out of our broken places when we invite him in, hand him the pieces, and trust him to work in his time and in his way.
So, today you can listen to a few episodes. I will add them weekly for the next few weeks. You can listen to all of them or sit with one per week. Each episode is less than 4 minutes.
So grab a cup of coffee, sit in your favorite chair, close your eyes, and let these words wash over your own threadbare heart.
I'm praying for you. And with you.
xo,
Stacey
P.S. Listen on Anchor iTunes Spotify and other platforms and you can find out more about the book here.