I am so excited about this post because since the temperatures dipped this week, there are plenty of layers. In fact, I thinks I've decided I love November best of all. Why? Cardigans! Jackets! Layers! Boots! Oh friends, throw a Sugar Free Vanilla Latte in and I'm golden.
I just love it! Here is what I wore this week!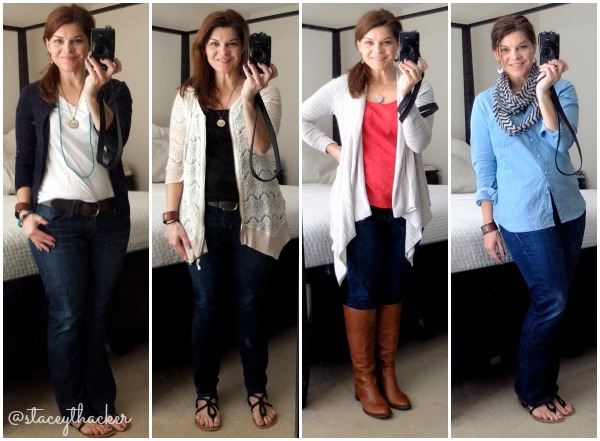 Left: Cardigan (Loft), T-shirt (Target), Jeans (Lucky), Shoes (Target), Necklace (ShopForeverly), Longer Necklace (Ornaments4Orphans)
Trying a few new things this week and one of them is the layering my necklaces. I was encouraged to do this at a Noonday Style meet-up at Allume. I learned tons from these ladies! Love their company!  Also, I love wearing jewelry with a story like these!
Left Center: Hoodie (Evys Tree), Tank (Loft), Jeans (Lucky), shoes (Target)
I wore this on Halloween to take my littles Trick or Treating and then to my oldest's daughter's opening night musical called "Through the Looking Glass."  I am in love with this hoodie. I would like to wear it every day. I *think* today they are having a 30% off sale. You should go and see here. 
Right Center: Cardigan (Loft), Tank (Lucky) Jeans (Lucky) Boots (Angie my sweet friend)
I wore this Monday and it was a little chilly in the morning still. But with a tank under the sweater, even as it warmed up I was fine. This works well for me this time of year.
Right: Shirt (Loft), Scarf (Cents of Style), Jeans (Lucky), Shoes (Target), cuff (Farm Girl Paints).
I stole this idea from my daughter. She wore something like this and I thought it was cute. Also, the cuff from Farm Girl Paints you can order right now. She is open for the last time this year! Mine says "Hope" – what would yours say?
So there you have it, the first few days of November, I'm grateful. Let's meet again here next Wednesday.
xo,
Stacey