Happy Wednesday! Our day to hang out, chat about what we wear, and be reminded that we can put a little effort into what we wear (I mean very little) and have some fun. I just heard an update from the Golden Globes that pony tails are back in style. I'm happy about that but really, were they ever "out of style"? If they were then the good news I'm back on trend!
Here are a few things I wore this week! (pony tail and all)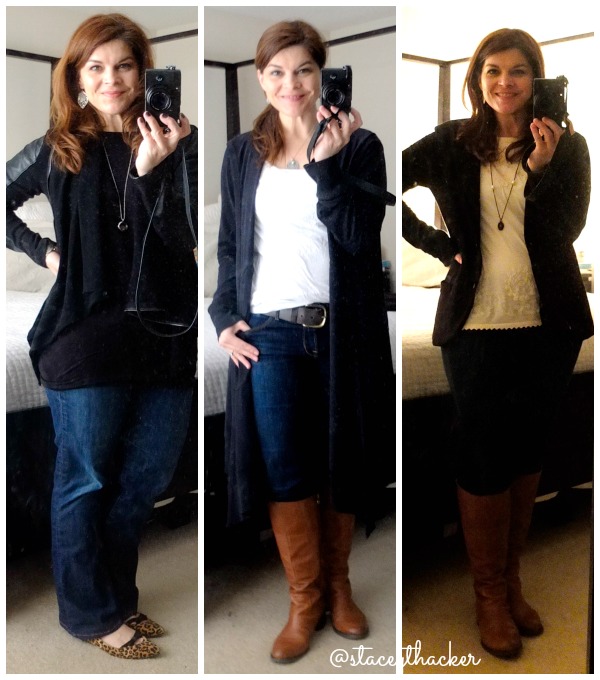 Left: Jacket (from a cute boutique in Greenville, SC), Shirt (Stitch Fix), Jeans (Lucky Brand), Shoes (Kohls).
Ok, the jacket—can we just enjoy it? I kind-of-sort-of love it and the fact that my motorcycle riding husband does too. I wore this Sunday to lead worship by the way. And, my hair is especially pouffy for some reason.
Center: Sweatshirt/coat (CAbi), Jeans (Sophia Straight/Skinny from Lucky), T-shirt (Loft Vintage)Boots (a gift from Angie my friend—we love her).
When it is chilly here (don't laugh polar bear friends who live north of Nashville) I love to wear this. I would live in it if I could. So cozy and like having a blanket with you all the time. Also, the sweatshirt is thin and not bulky at all.
Right: Jacket (NEW from last week Stitch Fix), Shirt (Lucky Brand from Macy's), Jeans (Lucky), Boots (Angie).
We had a special weekend celebration at church so I was blessed to lead worship twice in one weekend. This was for Saturday night which is why the picture is dark. I wanted to include it because it was the first time I wore my new jacket! Fun, right?
Oh, and also, because my friend Angie is such a sweet friend she gave me those boots. Can you believe it? If you know my boot story you know finding ones that fit have been a challenge. These are perfection!
So I just had to share this picture of us together.
By the way, I am super jealous of her gorgeous red hair!
Have a super week!
Stacey
P.S. I link up over here today with Lindsey!