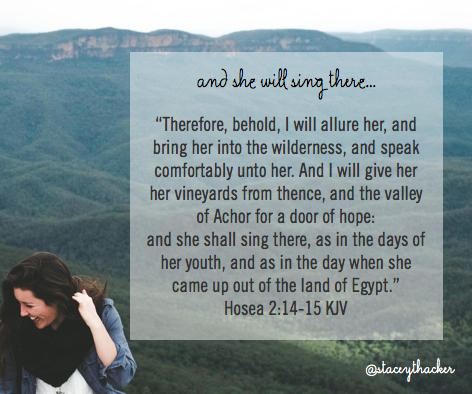 "They asked me to sing for his funeral and I could not. No way. The song was nowhere to be found. It is virtually impossible to sing when you are weeping. Do you know your throat actually closes up and you can't sing? It is true.
But when I came back home and began to work through every day life my worship pastor said, "Don't lose your song, Stacey."
I had no idea how to respond. I'm a worshipper. I lead worship. I love to sing. The trouble was when I tried to sing the lyrics got stuck in my throat. I guess that day I started swallowing them and they were balm to my heart. Even today, three months later singing about heaven stops me mid-note.
But he promises "she will sing there." Just like his people came out of Egypt singing songs of deliverance. I will sing as well. I'm there. Waiting in hope's doorway willing to worship. This bitter place, this Valley of Achor will be filled with a song.
It is his song. He will provide it. And it will be sweet.
For he has promised."
I wrote these words last July and I still have tears in my eyes when I read them. I know that valley of Achor filled with heavy grief that threatens to swallow you whole. But I also know the soft voice of the Lord who spoke to my heart in the wilderness. His words of comfort and the encouragements he provided from others were healing to my soul. They still are.
I was putting my faith in his promise when I wrote them.
"…and she will sing there." 
Yesterday she sang there.
I'm going to tell you the truth, too. It was a battle. The whole day was wrapped in struggle for me. It reminds me of a quote I read last week by CS Lewis: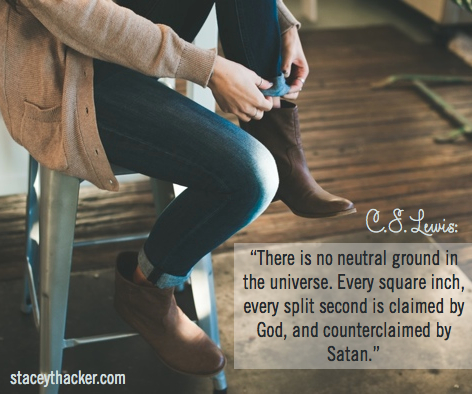 I think this especially applies to worship and our families. But the truth is when that battle rages we have a Savior, a rescue, a friend in Jesus. His blood poured out covers it all. While my heart has been healing, and the war has been raging, *grief's patient friend has been fighting for me on my behalf. Jesus never turns from us. He does not set himself at a distance from us. He enters it, holds us, and moves through it with us. When Jesus walked this earth he was sorrowful, unsettled, and acquainted with grief. He drew near to the grieving. Ironically, he who was abandoned in his worst hour does not abandon us in ours.
The fact that last week marked one year of losing my dad is not lost on me. It was a perfect storm of emotions for me all week long. So when I was asked to sing a powerful song called Precious Blood for our Psalm Sunday services I honestly had no idea if I could. I felt the weight of it for sure.
This weekend I stood ready to sing and I could not feel my own legs below me. I thought for sure I was going to fall flat on the ground. Moments before, I had received a call that my 8 year old had mysteriously blacked out at kids church. Rushing to her side I found her alert and well cared for. Once the shock lifted, she was happily drinking a Coke and eating Oreos and assured me she was fine. She was. And she is.
I had to ask, "Lord, will I sing here?" 
My heart went back to the day before when the same pastor who said, "Don't lose your song" prayed for me and the anointing of the Lord to be upon me.  It all comes full circle.
I will tell you I did sing there. But also I didn't.  Because it wasn't me, it was all Jesus. Grief's patient friend who lifted my heart from the Valley of Achor, walked me through the door of hope, and let his song rise up out of it all.
He did that for me. I'm just so humbled by his grace.
Friend, I don't know where you are today. Maybe you are grieving the loss of your loved one, too. Or maybe the death of a dream that you have held onto for so long. Maybe it is both. I just want to tell you from the bottom of my heart I understand. But more importantly know without a doubt that if you are in the wilderness called the Valley of Achor (bitterness), Jesus meets us there. He is the door of hope. He does not leave you alone to break to pieces. He stays. He sings softly. And when your heart is ready he gives you his song.
And you will sing there.
xo,
Stacey
*Isaiah 53:3