It happened. It happens. Those 5 extra pounds I really didn't want to find me right before bathing suit season—did.  Mainly because 5 other pounds had already found me and now there is like 10 pounds I really would appreciate finding another place to hang out. But there they are and so it goes. What do you do? I will tell you what I did. I enjoyed my birthday last week with my favorite cake and ice cream. I still put half and half in my coffee. (Can't stop that)! But I'm finally getting back to regular exercise after a crazy season of busy and family illness.  I also  re-installed My Fitness Pal App to keep track of what I'm eating. Baby steps, right?
I'm still getting up and getting dressed with a little bit of style and purpose, too. 5 extra pounds or even 10 (ahem) are not reason enough to give up entirely. I want to make good choices because I have 4 girls watching me like crazy. They see my 5 extra pounds and they still tell me I'm pretty and I look like I'm 29. They might be just trying to be nice, but I let them tell me anyway.
Here is what I wore this week: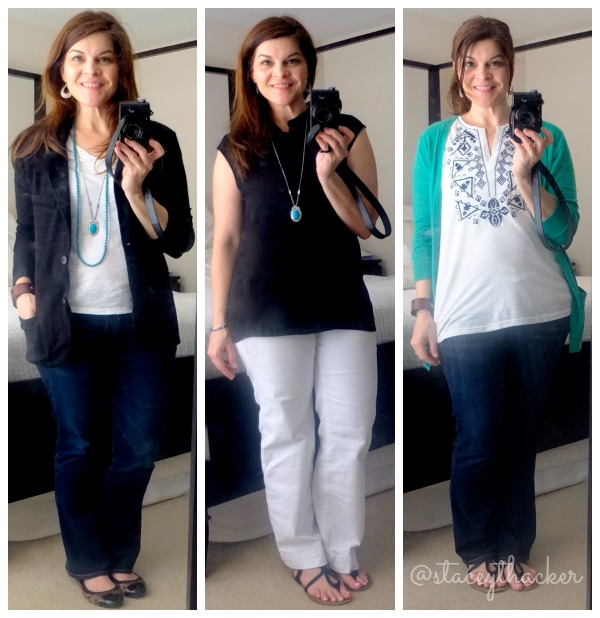 Left: Jacket (Stitch Fix), T-Shirt (Target), Jeans (American Eagle), Shoes (Payless), Necklace (pendant – American Eagle), Necklace (Beads – Ornaments for Orphans).
I could talk about how much I love this jacket all day. Girls – it has tiny shoulder pads. Not like the ones from the 1980's which made you look like a linebacker. These are just right. Also it is super soft and the sleeves push up. Perfection. Really.
Center: Shirt (Nordstrom Rack), Pants (Loft), Shoes (Target), Necklace (American Eagle)
My daughter asked for tickets to a Broadway show for Christmas and this week we got to use them to see Beauty and the Beast. We had so much fun! She wore a dress, but I opted for white pants because moms don't get to wear them too often.  Also they were a bit tight (see above) which made me think of Jimmy Fallon and "Tight Pants." So I laughed a little about that.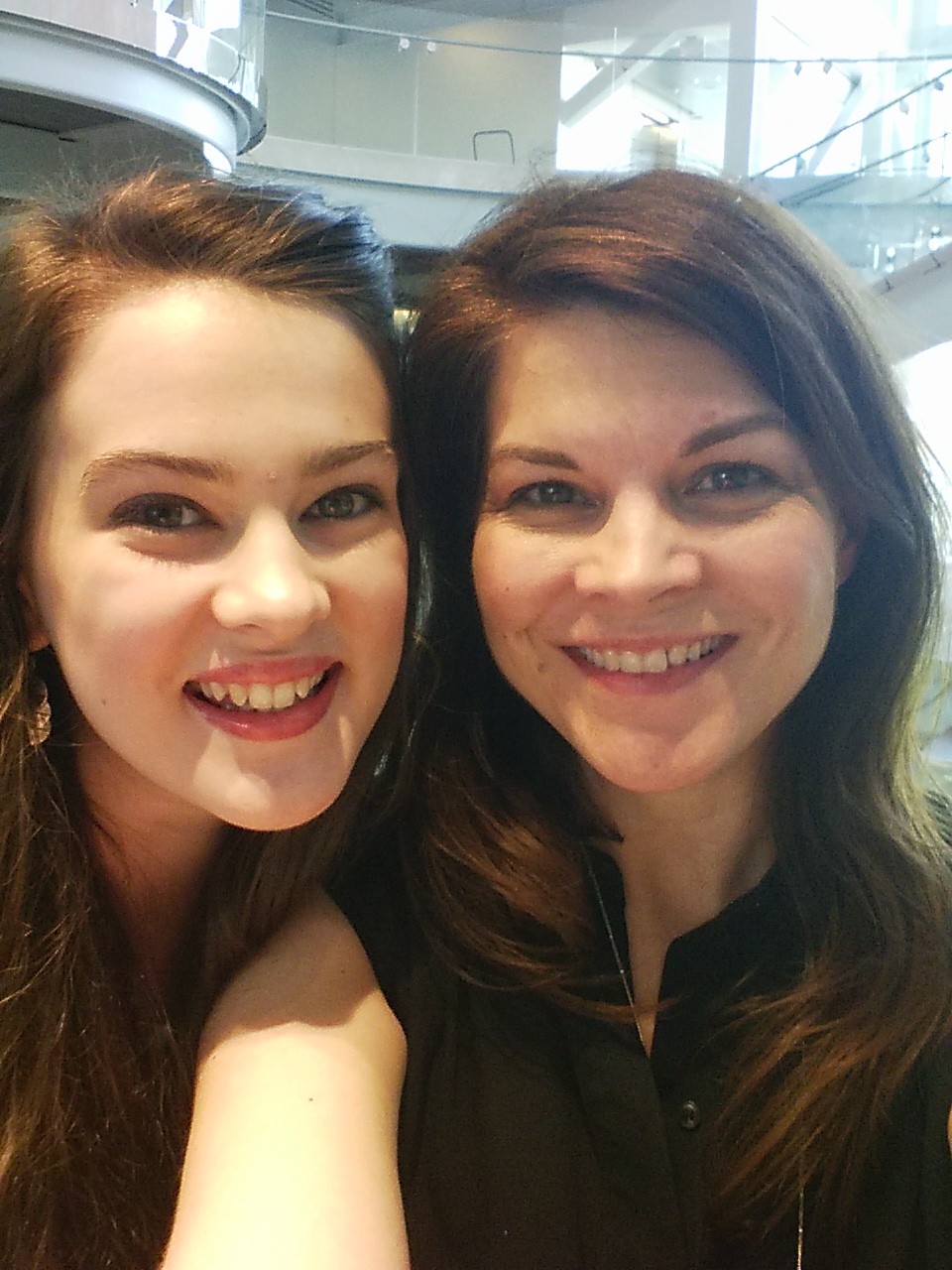 Selfie of course!
Right: Sweater (Banana Republic Factory Outlet), Shirt (Stitch Fix), Jeans (American Eagle), Shoes (Target)
I might just live in this outfit, because the sweater and the shirt. Love them both. And also together. I wore this to a ballet recital. Which makes me sound very refined because ballet and a Broadway show in the same week sounds that way. I assure you we ate homemade pizza and I colored my own hair for under $10.  So that totally balances, right?
Have a great week. And if 5 or 10 pounds have found you too, I'm here for you girl!
xo,
Stacey