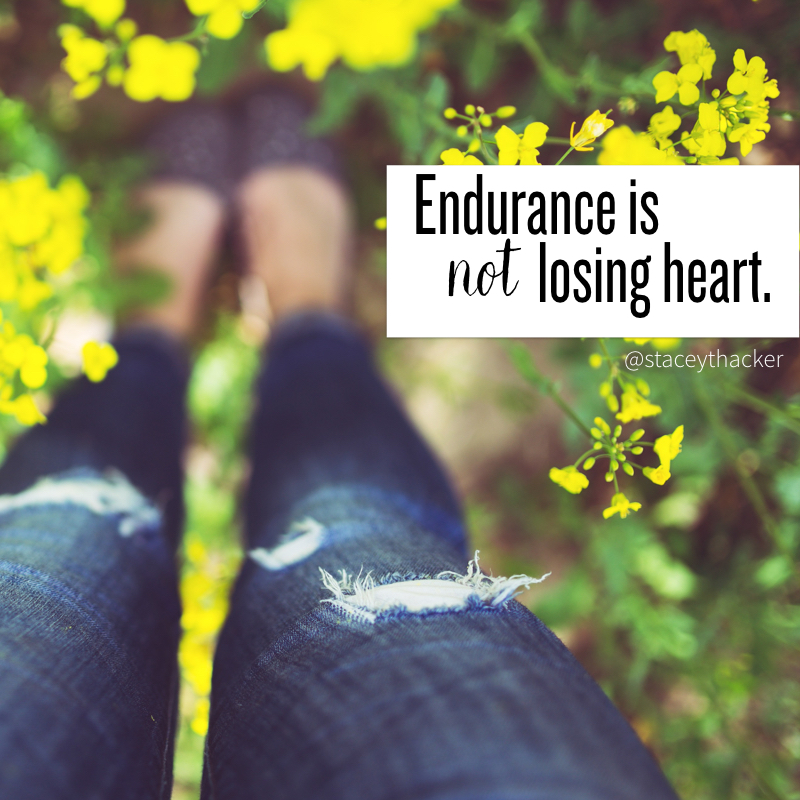 Endurance has been my word for 2016. You should know, if you don't already, I didn't choose it with great joy. It really chose me in many respects. But now, looking back on a year of truly hard things I see it. I see what God had in mind when He made it clear this was the word I would wrestle with most in the days and weeks of 2016.
Romans 5:3-5 has been my constant trainer:
We also celebrate in seasons of suffering because we know that when we suffer we develop endurance,4 which shapes our characters. When our characters are refined, we learn what it means to hope and anticipate God's goodness. 5 And hope will never fail to satisfy our deepest need because the Holy Spirit that was given to us has flooded our hearts with God's love. (The Voice Translation). 
Suffering. Endurance. Character. Hope. It is always in that order. 
And so you might be wondering what I have to say about endurance with only about 24 hours left in this year.  I don't need it less, now 12 months later. I need it more than ever. What is on the other side of endurance? It is more endurance.
Maybe you can relate, too.
God loves us so much he is making us just like his son. He is doing this absolutely with every bit of grace he can pour out over your heart and mine. I can testify to that personally. Are you discouraged today? This race is (to put it in Beth Moore's words) "hellacious" at times. Endurance is not for the faint of heart. I don't know your particular story. I don't know what your endurance looks like today. But if it is anything like mine, I know you need this bit of encouragement. You are not alone:
Keep your eyes on Jesus, who both began and finished this race we're in. Study how he did it. Because he never lost sight of where he was headed—that exhilarating finish in and with God—he could put up with anything along the way: Cross, shame, whatever. And now he's there, in the place of honor, right alongside God. When you find yourselves flagging in your faith, go over that story again, item by item, that long litany of hostility he plowed through. That will shoot adrenaline into your souls! (Hebrews 12:1-3, The Message)
This is our story. This is our anthem for the days we really want to quit. We need to burn it into our hearts line by line because this is what is going to make the difference on the hard days. Jesus has not left us in the dust. He has paved the way. He has crossed the finish line first and is seated at the right hand of God.
And our God is a consuming fire.
xo,
Stacey
P.S. Can you guess my word for 2017?