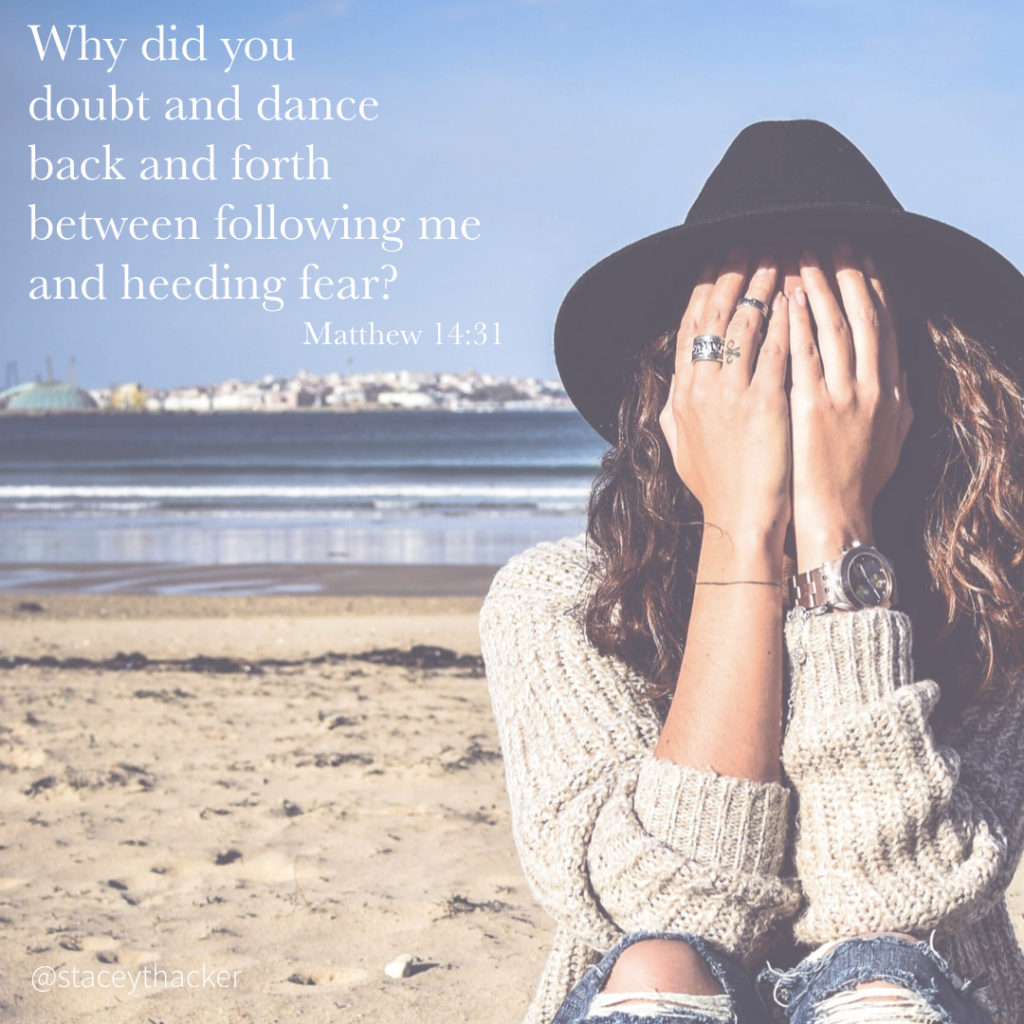 I sat in church last Sunday rigid. The funny truth is I needed to be there. It has been weeks since we had a normal Sunday routine and my heart longed to sit in service, worship with my people, and hear from the heart of my pastor. He is a shepherd to the core and my lonesome wearisome heart needed tending.
He spoke on his Word for 2019, "Beyond" and immediately my defenses went up.
He taught from the passage where Jesus was walking on the water and Peter says, "Lord if it is you, command me to come." And then Jesus says, "Come on then," Peter obeys, gets out of the boat my pastor called "comfort" and walks on top of the waves towards Jesus.
I wrapped my arms around myself in silent protest. Good luck with that word, pastor.
 My word for 2014 was beyond.
In the 5 years since we have experienced just about every trial you can imagine. Death, illness, hardships, recovery, grief, loss of job, isolation, and most recently financial difficulty.
To be fair, I've also written 5 books, spoken to thousands of women and started a new ministry sharing my passion for God's Word.
Beyond can go both ways.
 Sitting there during the service I just felt so lost. I tossed off a comment to the Lord that said, "I wish the boat of comfort would come by. I'd love to climb in and spend an afternoon. I'm just so weary of swimming."
As the worship team closed the service and sang out "Oceans" (of course) I could not begin to sing it. I just stood there. I actually walked out. But when I did I heard this faint whisper,
"Just go under."
Immediately I saw myself fighting wave after wave to stay afloat with my head above the crazy and imagined Jesus looking down at me saying it with no anger or frustration at all. Only kindness.
"Just go under. Surrender it all to me."
I thought about the words as I kept walking, knowing they were not from me, I wondered what Jesus wanted to do with me if I went under. I've worn myself out lately worrying about all the waves and impending storms. I've feared and fretted so much so I physically hurt. I'm not worth much anymore.
But sometime in the past few days I've done more than consider it. I've begun to stop fighting the waves and surrendered. And surprisingly, going under hasn't resulted in destruction. I will not lie to you and tell you I've started singing Oceans while I'm cooking dinner and I haven't heard anymore whispers either.
I have had this thought run around my heart since Sunday, though. Maybe, for the one who has been out of the boat for a while, comfort isn't in the boat.  But, going under and letting the One walking on the water lift you up and cradle you near.
"But when he remembered how strong the wind was, his courage caught in his throat and he began to sink.
Peter: Master, save me!
31 Immediately Jesus reached for Peter and caught him.
Jesus: O you of little faith. Why did you doubt and dance back and forth between following Me and heeding fear?"
Matthew 14:30-31
All this time I've been wanting the boat.
Jesus wants to give me himself.
He'll put me in the boat when and if it is time.
The boat holds nothing on the embrace of Jesus.
"Then Jesus and Peter climbed in the boat together, and the wind became still. 33 And the disciples worshiped Him…" Matthew 14: 32
Looking forward,
Stacey
P.S. I'm back at "Fresh Out of Amazing" and will be taking the Girlfriends' Guide to the Bible Community through Habakkuk in March. For details — leave a comment!