Happy 2015 friends! Welcome back to What I Wore Wednesday! I'm excited to kick off the new year with my latest Stitch Fix. It came last week and the best part is I had a gift card to spend plus some shop credit! Did you know they have gift cards your friends and family can purchase for you? Pretty cool.
Here is what they sent me this time!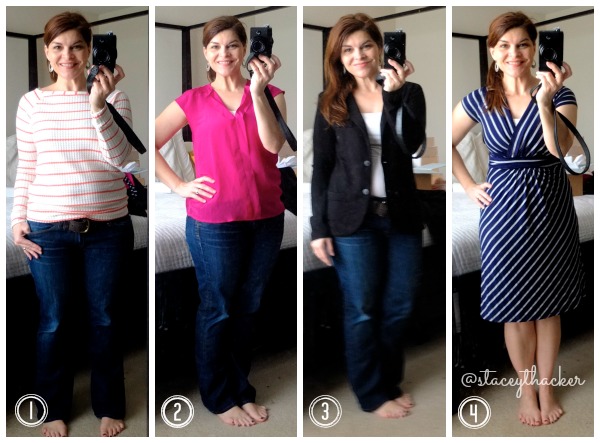 Overall, I felt like this fix was pretty great. At first glance I liked everything they sent me. But, you know the old saying you have to try it on to see if it will work for you. This is what I thought of each piece. I totally forgot to keep the sheet that tells you where each piece came from so I am sorry about that! Just blame it on holiday vacation brain:
1. Striped Shirt – This shirt was cute and made of waffle type fabric. I like the boat neck style and the fact that it was not too thick. All in all I liked it.
2. Pink Top – LOVED the color and thought I was going LOVE it. But the back (which was really cute) unfortunately was not the front. The front was odd to say the least in how it fell open. Still, the color—yes.
3.  Jacket – I do know this by Tart and it is the coziest. Love the fabric and fit. I wish it was a different color (I asked for Navy Blue) because I have a cropped black jacket already.
4. Dress – Just no. Not loving it. I have typically liked the dresses they have sent me. This one had a whole lot of stripes going on. I get the idea of illusion here, and if I was about 15 pounds lighter, maybe.
5.  Jeans – Not shown. Let's just say they were on the skinny side of skinny and not for me.
So, what did I keep? I kept the darling jacket. I can't wait to add a fun graphic t-shirt with it! The best news is because of my gift card and credit it cost about what I would have paid at Target for such a jacket. That being said, I probably wouldn't have paid full price for it. Yeah for having $$ to spend!
I still love getting Stitch Fix boxes. I have a sweet friend named Jill and she gets boxes regularly. I have heard from her, the more boxes you get the better they are at getting your style. I'm glad to know they have an every other month option. I think that would be fun!
What about you? Do you do Stitch Fix? You can find out more here if you care to! If you schedule a fix I get a little credit which rocks. Thanks friends!
Have a great Wednesday!
xo,
Stacey
P.S. Sorry about no shoes! It was beautiful here last week and who needs them in Florida?