So many fun friends are pulling together their Fall Capsule Wardrobes and I am 100% jealous. Because here in Florida it is so hot that my Fall Capsule Wardrobe is really the same as my Summer Capsule Wardrobe. I know when it is January and I do not have 5 feet of snow on the ground I will be fine with it. But, for now, I'm drooling over cute boots and fun layers while I'm trying to figure out how to wear shorts creatively, again!
Here is what I wore this week: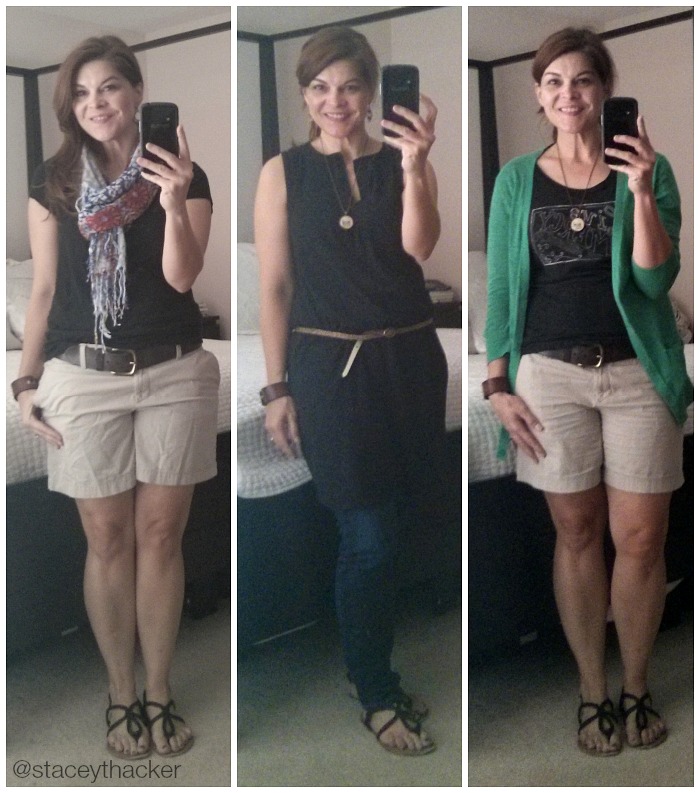 Left: T-shirt and shorts (Loft), Scarf (Dayspring "Redeemed Line"), shoes (Target)
In way of confession I totally did not last in the scarf…just too hot! But I was trying to up the style factor. My girls even said, "Where are you going Mom?" So I think it is a good idea!
Center: Dress (BJ's Wholesale Club), Belt (maybe Kohls), Jeans (Lucky Brand), Shoes (same)
I wore this to church and adding the thin belt was new for me. I liked it and felt a wee bit trendy. That is if skinny belts are still trendy.
Right: Cardigan (Banana Rep Factory Store), T-shirt (Incourage InMercy), Shorts (same as above), Shoes (same)
This was my fave. I was able to layer and still not be too hot. I absolutely love this sweater and wish I had bought the blue one just like it!
Have a blessed week!
xo,
Stacey
P.S. For Fall Capsule fun go see Erin and Ter iLynne.