Hey friend! I'm so glad you are here. 
Maybe you found yourself here because you saw a few of my words over here or here. Or maybe, you are checking in because it is Tuesday and that is your Tuesday thing. I hope you brought your coffee and hang out for awhile with me.
If you'd like to get to know me a little better, stop by here first. I've also listed some of my favorite blog posts there too.
But just in case you are short on time can offer you a free gift? I have written 5 Prayers for When You Are Fresh Out of Amazing that I would love to send to you.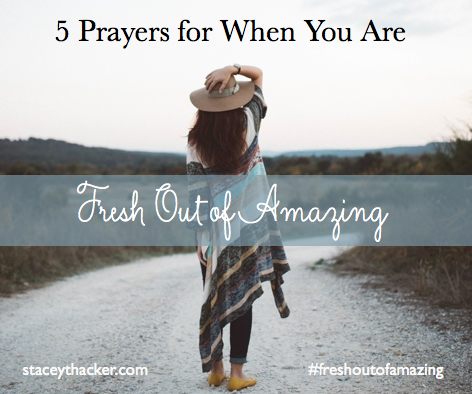 All you need to do is click here and add your email address. 
These 5 Prayers are based on my new book. I hope they are just what you heart needs. They will drop in your inbox quietly over the next few days.
Know that I'm glad you are here, and I'm praying for you!
xo,
Stacey