Happy October friends!
I hope you get to enjoy fall where you are. We have had rain. Oh.So.Much.Rain. And I'm pretty much over it. I noticed the other day that people aren't even bothering to use umbrellas anymore. They are just going with it and getting wet. We have officially given up and settled with being drenched in public. And by we, I mean me of course.
This week I thought I would try to wear as many of my favorite Stitch Fix*(referral link) items as I can.
I have used the
ship it- shop at home- send it back service
for a while now. I get a "fix" sent every few months. Some of them have been awesome. Others not so great. But, overall I find at least one thing I like in my box. AND, they have referral credit so I usually shop at a discount or free. I have also seen a few other services like
Golden Tote
* (referral link)that I would like to try.
Golden Tote
*(referral link)  lets you pick a piece and then they choose the rest! So your box is a fun surprise!
So, here is what I wore while dodging rain this week!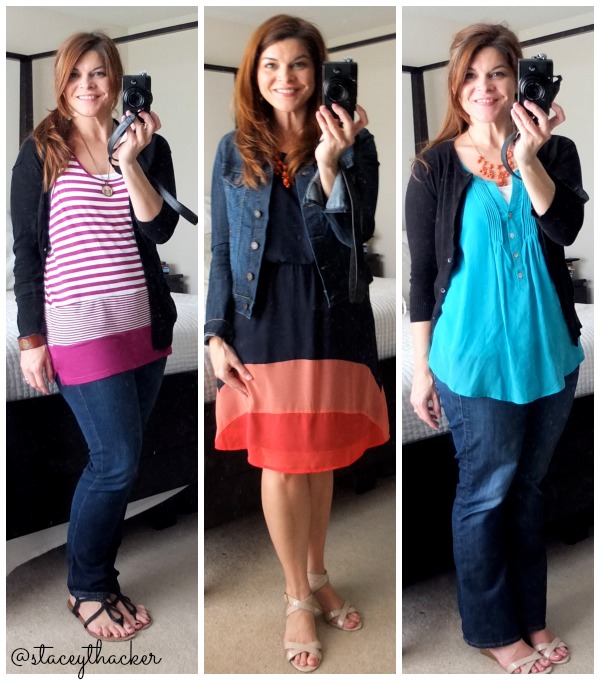 Left: Cardigan (Target), Tank (Stitch Fix), Jeans (Lucky Brand), Sandals (Target), Necklace (Foreverly), Cuff (Farm Girl Paints)
I wore this to church last week for choir practice. Because of the rain it was a little cooler so I was able to live in the cardigan and not have a heat stroke. The tank is fun, I love the color but it is a little bit big. So, I'll have to layer it with another tank and a cardigan. I'm fine with that!
Center: Jacket (Stitch Fix), Dress (Stitch Fix), Necklace (Candies for Kohls), Shoes (Target)
I went to the sweetest wedding this weekend and wore this. I adore this dress. And don't get me started on the perfect stretch of the jacket. Love it. I've been looking for a bauble necklace that did not look like I was wearing a "vest" necklace and this one is perfect. Wish I could live in this outfit, but I'm not sure I am a wear a dress around the house mom. Just me, but I want to be going somewhere in my dress.
Right: Cardigan (Nordstrom Rack), Top (Stitch Fix), Jeans (Lucky Brand), Shoes (Target), Necklace (same as above)
So, I was loving the new necklace and picked this top out for church Sunday because I wanted to wear the necklace again. We were out late for the wedding, so I didn't want to think too hard or be fussy for service.
This fall I'm looking to add a navy blue boyfriend jacket, a new pair of flats to wear with jeans (leopard print?), and possibly a girly sweatshirt – but it will need to be lightweight. Oh, and I have my eyes on these in white or navy. 
I hope you have a great week!
xo,
Stacey
P.S. How does *Referral Credit work? Well if you click here and shop with Stitch Fix, I get a small compensation at no extra cost to you! Try them and let me know if you like them!