Boot weather was bliss while it lasted which was about 4 hours before it warmed up. I loved every minute of it! Next week, I'm headed to a conference in South Carolina and you can bet I'm taking the boots!
This week, I did pick up a cute pair of leopard print flats I can't wait to wear! They have been on my wish list for awhile and I took advantage of Khols cash, a coupon, and a sale to grab them up! This is pretty monumental because I am notorious for missing all the sales by two days.
Anyway, here a few things I wore this past week!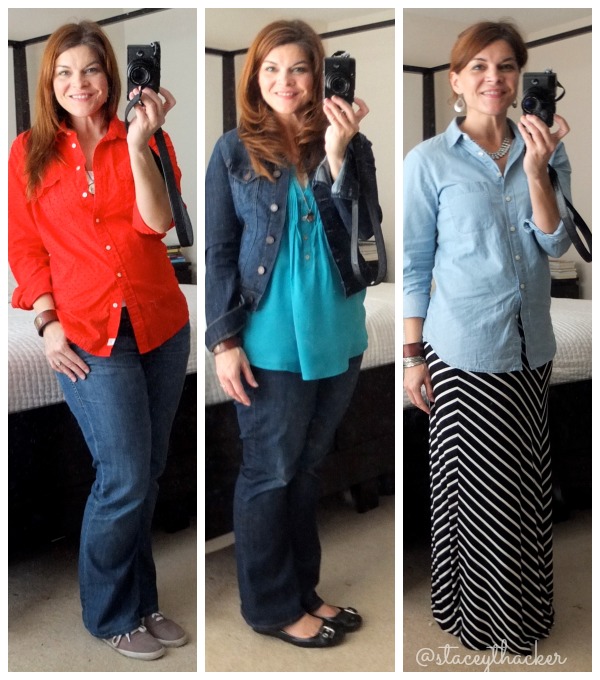 Left: Shirt (Gap), Jeans (Cabi), Shoes (Target), Cuff (Farm Girl Paints).
I love this shirt because it has the cutest "dots" all over it.  I really wish I had purchased it in blue as well. Do you do that? Buy the same shirt in two colors? I wore it to church last Wednesday night for choir practice.
Middle: Jacket (*Stitch Fix), Top (Stitch Fix), Jeans (Lucky Brand), Shoes (DSW)
I wore this for a video shoot for the *NEW* Hope for the Weary Mom. I can't wait for you to see the video! I was trying to match the new book cover so I paired the jacket with this bright turquoise top. I love how it came together! Plus, I was having a good hair day, which was a bonus.
Right: Shirt (Loft), Necklace (Kohls), Skirt (Target),
I was invited by my all to cute 11 year old daughter to a fancy tea party with her friends and their moms. I had yummy snacks and drank 3 cups of tea. I was going for tea party casual here and we so comfortable in this outfit I did not want to take it off.
I hope  you have the best week. And if you were here yesterday and shared your brave with me, I'm ever so grateful!
xo,
Stacey
*Do you use Stitch Fix? They send boxes full of cute clothes for you to try on at home and you buy what you want and send the rest back! You can find out more here. If you sign up for a box, I get a small compensation so I can shop too! That doesn't cost you a dime!