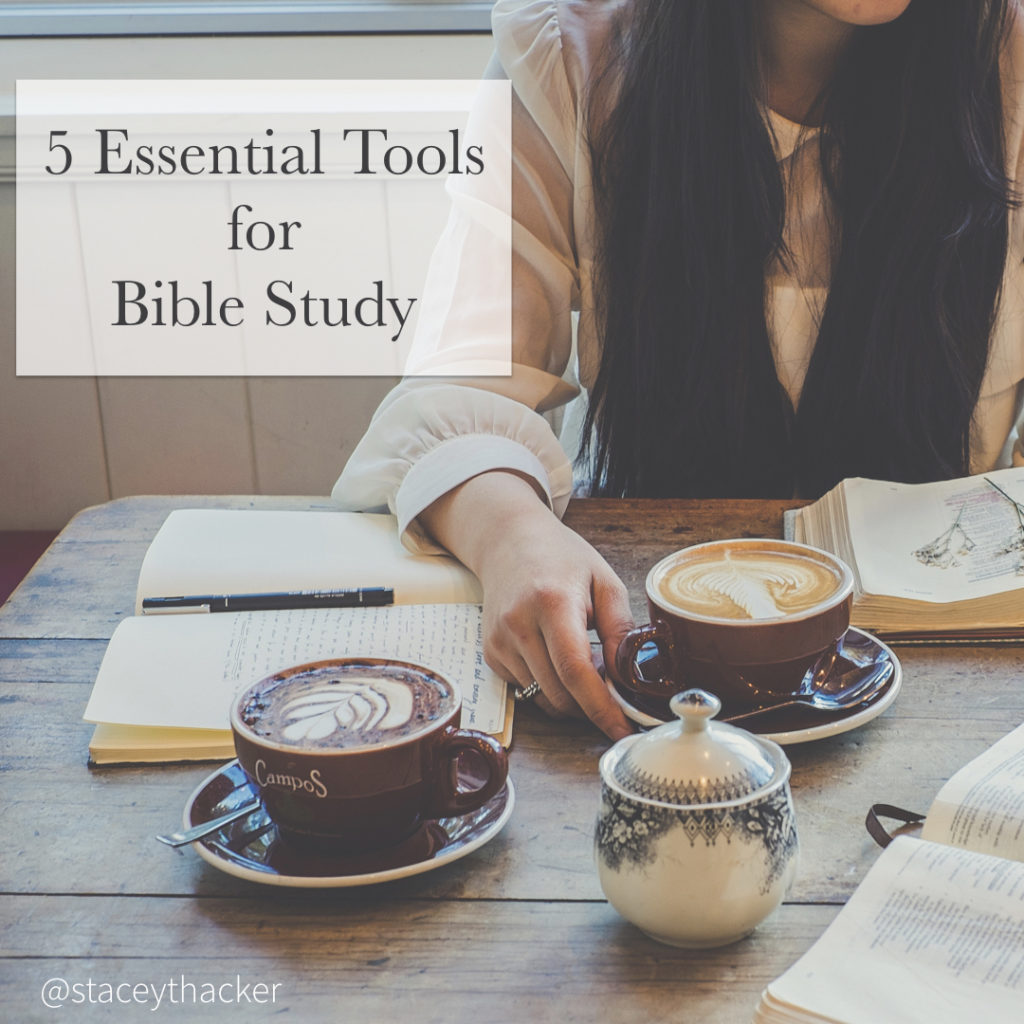 (Disclosure: This post contains hyperlinks for items you might wish to purchase. When you click through and make a purchase, at not cost to you, my family receives a small compensation. The companies listed below have not asked me to promote their products, I just love them do it because I think you will love them too! Thanks! ) 
Today I want to talk about something we we would totally talk about if we met for coffee. I'm a Bible study teacher and I get asked a lot about what tools I use to study God's Word. This is not an exhaustive list, but these are my top 5 essentials.  They are great for beginners and leaders. I also know what it is like to live on a tight budget. So I'm including items I waited to go on sale, items under $20, and others that are free. (Yay for free!)
My Favorite Bible:
I switched the ESV translation years ago because that is what my pastor uses on Sunday mornings. I like a variety of translations but this is my study Bible and I find it to be extremely accurate to the original language.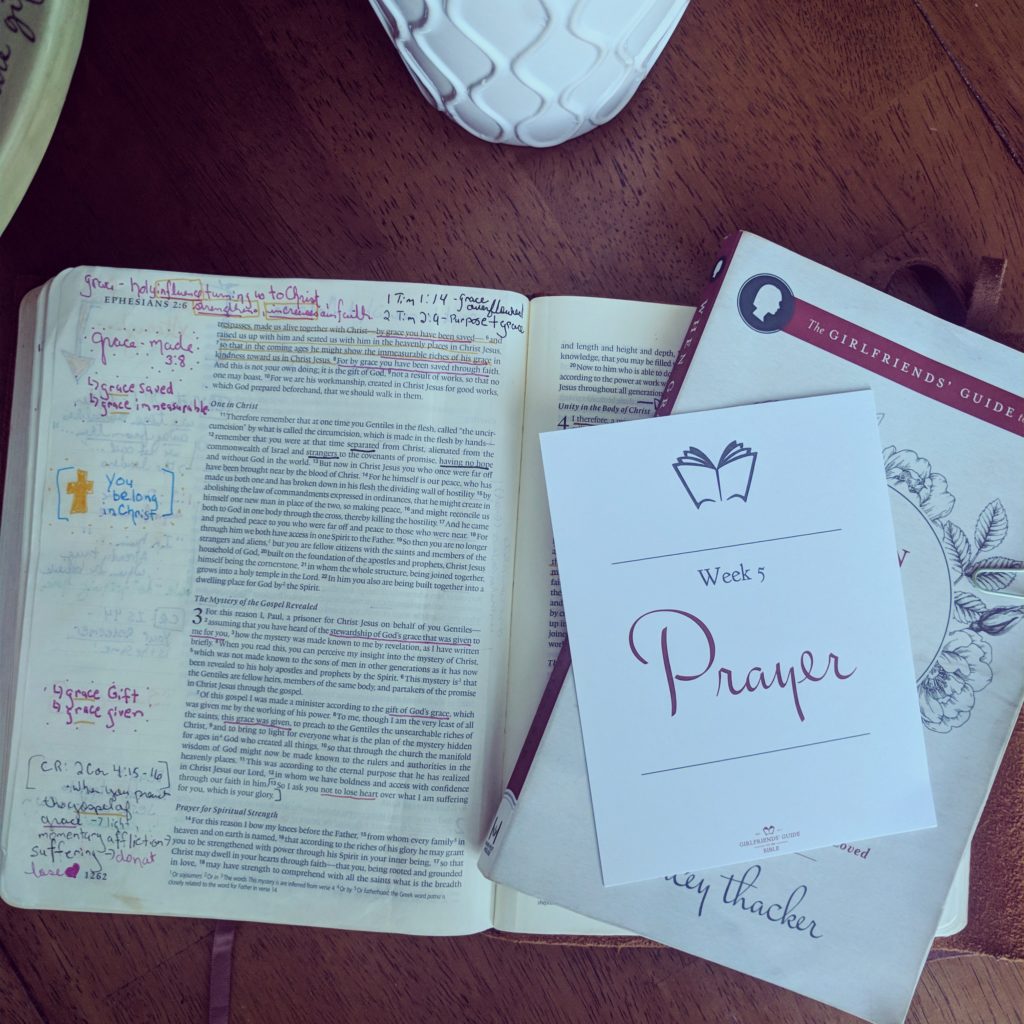 I saved my money and waited for this Bible to go on sale.The retail price is NOT cheap. I have not bought a Bible like this in about 25 years. So I think it is totally worth it. I like it because it has one large column on the page and lines to right notes on the side. As you can see, I'm not the most "artistic" but I love keeping a record of what I'm learning alongside the text I'm studying. I also love this Bible because it has a soft leather cover and a tie that you can "wrap" up the Bible in. It keeps the pages protected when I toss it in my bag for church.
(You can also find the ESV Bible in a free App if you want to study on the go.) 
Also I was asked to contribute to a the new (in)courage Devotional Bible which just released this fall! You can find out more about it here. I love it and I'm so honored to have a couple of my devotions featured in it!
Speaking /Teaching Bible: When I speak I need to be able to see and read text easily. My friend Erin bought this ESV Large Print Thinline Bible for me and I LOVE it. Not only is lightweight, I can actually read it. The print is clear. IF I'm being honest, I'm using it more and more during Bible study as well because of these same reasons. There isn't a ton of margin to write in but you can underline and highlight! Check it out here. 
My Favorite Journal:
I love to take notes in church, during Bible Study, and when I'm digging out a text. I also love pretty things and as a Florida girl I'm a HUGE Rifle Paper fan. The pages are lined which is a deal maker for me as I write may way through Scripture.  This is a 3 pack and will last you for months. They also come in handy to use as encouragement gifts for your girlfriends. I ALWAYS carry this with me in my bag.
My Favorite Pens: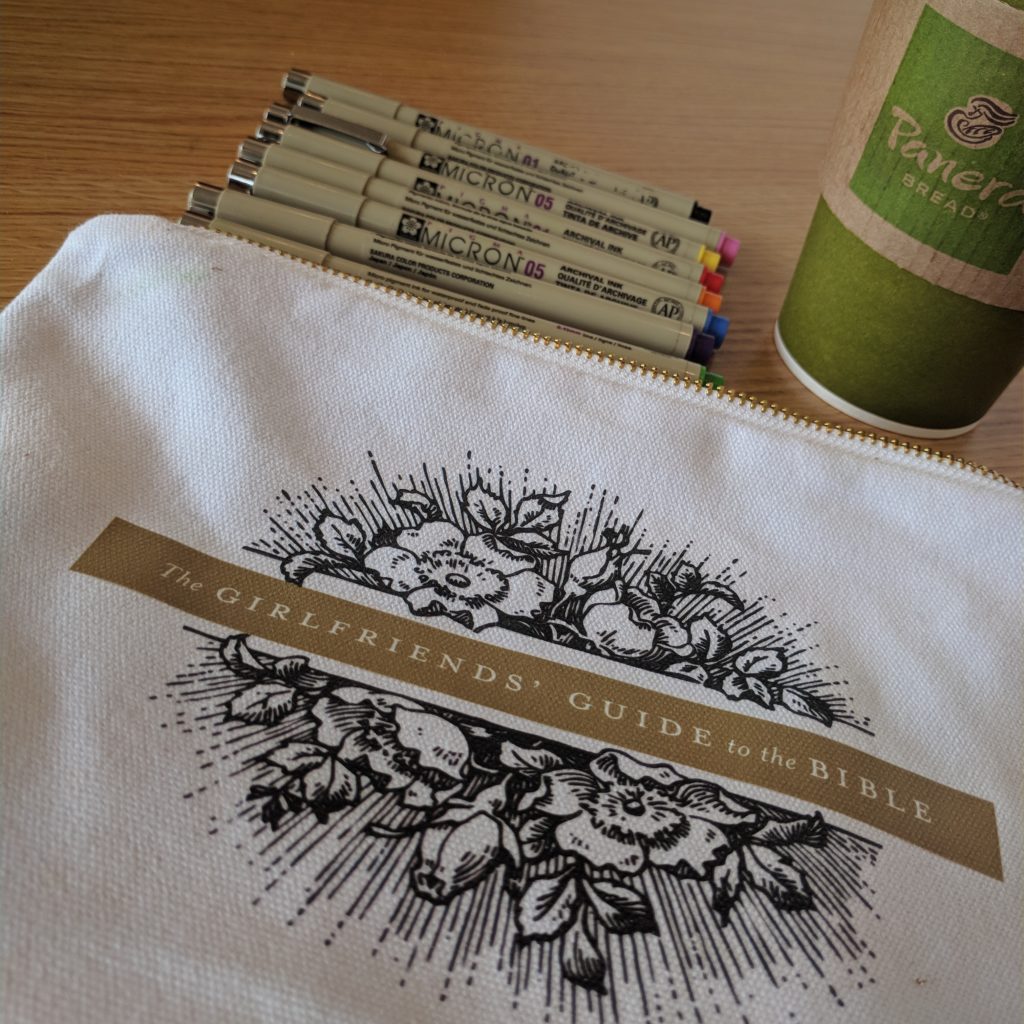 I mentioned before that I am not artistic in the least. But I am a visual learner and I love taking notes in color going back to glean from my notes using color. My daughter is an amazing artist and she suggested these pens. I love them! They have a fine point and come in lots of pretty colors. I'm ready for a new pack and will most definitely add this larger color choice to my pen bag! (FYI: Pen Bag is Coming SOON!)
My Favorite Commentaries:
I love to investigate the Bible using helpful tools that will help me understand what is written there. I'm not a seminary graduate, but I've spent years learning how to study. I am not afraid to seek help from wise teachers once I've looked at a passage on my own. Here are a couple of my favorite:
My Favorite Apps: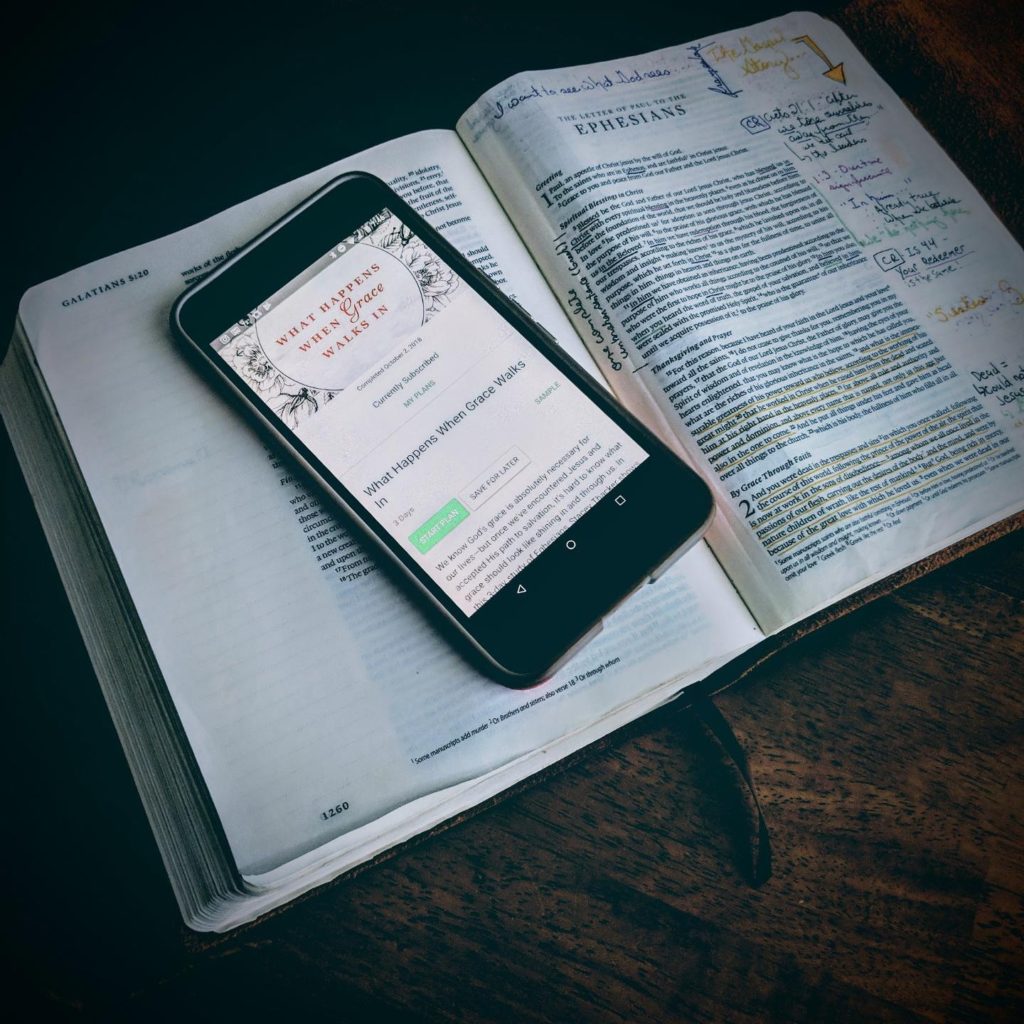 I have a confession to make. I love to study the Bible in the morning in the dark with an oversized cup of coffee when the house is quiet. So I often find myself using my phone as a flashlight or studying with my computer and transferring my notes to notebooks and my Bible. Here are my favorite free apps you can find in iTunes or Android:
youVersion: This is almost always open on my phone. You can access several different versions of Scripture and LISTEN to them read to you as you drive or cook dinner. They also have great reading plans (including one called "What Happens When Grace Walks IN" based on my new book). I love this free app so much!
Evernote: I use this when I study and have it on my computer and my phone. I always have my study notes with me which is great during my Girlfriend Group or when I'm out and about and have time to go over my notes. It is free but you can upgrade as well. I have the free option.
Blueletter Bible: Which deserves a second mention here because if you don't read Greek or Hebrew but love to KNOW what it means, this is a great tool in your hand and during Bible Study. When someone says, "Hey what does that mean?" You can look it up immediately and share with our girlfriends!
I hope you have found this helpful! Please let me now in the comments what you LOVE and if you have any questions. I also love to help you learn how to study the Bible. You can find out more about how I use these essential tools here. (just click here).
Looking Forward,
Stacey