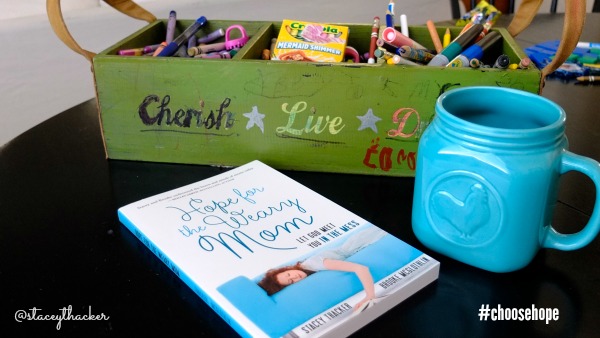 Hope is my favorite story.
I have been telling it through my writing for the past 10 years. Why? Because God keeps asking me to.
About a year ago, Harvest House Publishers invited Brooke and I to share Hope with a brand new generation of moms. We took our book Hope for the Weary Mom, freshened it up and added a new chapter. The book also received a brand new title and cover. Find it here!
This book is for every mom who's weary, tired, and waving the white flag.
Being a mom is challenging, no matter how long you've been doing it. You want to give your best to your family, but pouring yourself out each day can leave you exhausted, overwhelmed, and feeling as though you have nothing left to offer.
After more than 20 years of being a mom, I still feel unraveled at times. Maybe you do too. In Unraveled we invite you to:
| | |
| --- | --- |
| ▪ | invite God to work wonders within your life's messiness |
| | |
| --- | --- |
| ▪ | embrace His heart and purpose for you and your family |
| | |
| --- | --- |
| ▪ | experience the joy and freedom of navigating life's trials at His side |
Amid the everyday chaos of motherhood, let the power of God's grace transform your weaknesses and shortcomings into a beautiful portrait of His glory.
Unraveled will be released on May 3—just in time for Mother's Day. But you can pre-order a copy today and sign up to receive 10 free prayers for the Unraveled Mom. Brooke and I will give you a print version and an audio version of these prayers just for pre-ordering. (They will be delivered when the book releases). So pre-order Unraveled today and fill out this form at the bottom of THIS PAGE to claim your bonus item!
Other Hope-Filled things to look for:
Million Praying Moms Podcast Season – Getting the Root of Weariness – I will be joining Brooke all month long on the podcast where we will talk about these "roots" or causes of weariness:
Misunderstanding the Role of Motherhood
Hiding Behind Pride
Choosing Weary over Worship
Special bonus episode of Brooke reading Chapter 6 of Unraveled for you called "When the Gentle Words Won't Come."
Do you worry if you are a GOOD MOM? Read this.
LOCAL Friends:
I will be signing books at First Orlando on May 8th between all 3 services. Come on over and say hello and grab a book from Long's Bookstore!
Looking Forward,
Stacey
Get a copy of Unraveled wherever books are sold! We have options for you as well: Paperback, Ebook,and NEW Audiobook options. Find your favorite below!